The Beauty of Survival
STRENGTH FAITH PERSEVERANCE
DJ.HOST.AUTHOR.ADVOCATE.

SURVIVOR.
Spotlight by "The Mane Choice" hair products
FEATURED VIDEOS
FEATURED VIDEOS
FEATURED VIDEOS
FEATURED VIDEOS
"I HAD CANCER, BUT IT DIDNT HAVE ME!"
​In May of 2013, my life was turned upside down. Being diagnosed with stage two breast cancer at the age of 31 was more than unbelievable for the first few days. It was unbearable. Before my diagnosis I just knew that in October people wore pink and I thought only old women got it. I really didn't know much about the illness or what all came with it. I can honestly say having breast cancer was probably the best thing to ever happened to my life, and my faith.
I was at a crossroads with God and I knew something needed to change. I would smile for the public but then go home and be depressed. I just wasn't happy with my life, including my job. I asked God for 3 things as January 2013 rolled in and I can honestly say through breast cancer, God answered all my prayers!
April is testicular and Esophageal cancer awareness month!
Testicular Cancer
Requires a medical diagnosis
Symptoms include: a lump in either testicle and a feeling of heaviness in the scrotum.
Can have no symptoms, but people may experience:
Pain in the lower back
Whole body: cancer-related fatigue or fatigue
Also common: painless testicular lump, swelling of scrotum, swollen lymph nodes, or weight loss
Consult a doctor for medical advice
Esophageal Cancer
Symptoms include: trouble swallowing, unintentional weight loss, chest pain, worsening indigestion or heartburn, and coughing or hoarseness.
People may experience:
Pain areas: in the abdomen
Gastrointestinal: dark stool from digested blood, heartburn, indigestion, nausea, or vomiting blood
Also common: difficulty swallowing, iron deficiency anemia, loss of appetite, or weight loss
Just For A Season - I Had Cancer, Cancer Didn't Have Me.

"Just For a Season" is an honest account of the months Micha "ML6" Logan went through her diagnosis of Stage 2 Breast Cancer. In this book, written in chronological order, you will get a better understanding of what Micha dealt with on a day to day basis.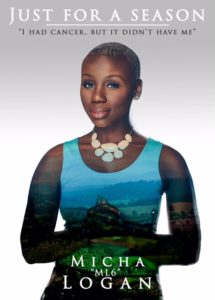 Micha holds nothing back and gives encouragement to not only other breast cancer warriors but also anyone dealing with health issues as she stresses the point that you MUST live through it!
Realizing now that breast cancer affects women of all ages, Micha hopes to be a support system for young women, giving them a reference that they are not alone in this fight. This is a true story of how putting full trust in God will give you perfect peace and healing in ways you will never imagine. Micha had cancer but cancer didn't have her!
Featured in "Beautiful+Machine" Magazine